Whalen Law Office would like to congratulate two very special 2020 graduates!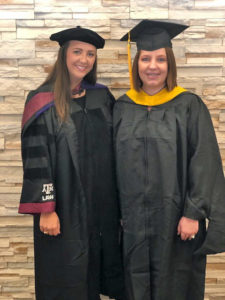 Ashley Phillips, our law clerk, has completed law school at Texas A&M. While in school, Ashley was an Order of Barristers Recipient; President of the Criminal Law Society; and was a Texas A&M Public Interest Law Fellowship Recipient. Ashley joined our firm in January of this year and will continue to be a part-time member of our firm until she passes the bar exam this July. At that time, we look forward to bringing Ashley on full time as our Junior Associate Attorney.
Diana Wilson, our Senior Paralegal, has completed her master's degree in Criminology at Texas A&M – Commerce. Diana was selected by her school, after completing her first semester, to join Sigma Alpha Pi, due to her academic distinction and leadership potential. Diana's graduate research focused on Pretrial Diversion and its effect on recidivism.
Due to COVID-19, neither Ashley or Diana will have commencement ceremonies to celebrate their hard work and dedication, but we do not want them to go unnoticed.
Congratulations Ashley and Diana on all your hard work. Your dedication to the legal field, the clients and the firm shine brightly through each of you in all that you do!
James P. Whalen & Ryne T. Sandel