James Whalen Publishes Book!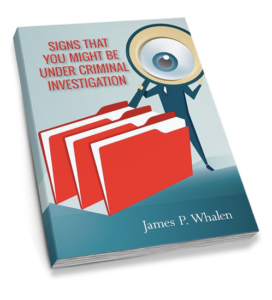 Attorney James Whalen has published a book – Signs That You Might Be Under CriminalInvestigation.
Whether you're a health-care provider, a business executive, or just an average everyday citizen, the threat of a criminal investigation can be enough to turn your life upside down. So if you find yourself under the watchful eye of law enforcement, it's important to take steps to resolve the matter as soon as possible—but first, you'll need to be able to recognize some clear-cut signs that may indicate you're under scrutiny.
With nearly twenty years of legal experience behind him, James P. Whalen is able to identify a number of these signs with astounding accuracy. And after handling cases against a number of federal agencies, including the Department of Education, the Small Business Administration, and the United States Attorney's Office, he knows exactly what it takes to combat a federal white-collar investigation.
In this straightforward and practical guide, Mr. Whalen shares the knowledge he's gained over the years, available to the public for the very first time. Along with learning telltale indications you're under a criminal investigation, you'll also learn the right steps to take if you recognize these signals—which could be the key to protecting yourself from a very damaging situation.
Click here to purchase your copy today!